Kelli Kanashiro (Japa, as friends affectionately call her) is the founder of JapaYoga Healing Therapies. Currently, she is a C-IAYT Certified Yoga Therapist, Shamanic Reiki Master, YACEP (Yoga Alliance Continuing Education Provider), E-RYT500 experienced Yoga Alliance registered Yoga teacher. Over the past few years, Kelli has offered over 2.5k hours of sessions by consistently applying Yoga for therapeutic purposes and successfully helping people worldwide.
Born in South America, Kelli is a Brazilian descendant of multi-nationalities. Daughter of a Lebanese mother and a Japanese father, Kelli has always presented mixed and striking characteristics of each culture. The traces of her eyes do not deny its origin, thus arousing, among her close friends, the affectionate nickname "Japa" as a reference to the Japanese character.
Curiously, the Sanskrit word Japa (जप) is also a practice found in Hinduism, Sikhism, Buddhism, and it is a meditative and repetitive contemplation on the meaning of a mantra or a divine name. One of the ways to practice it is by counting through a string of beads, commonly known as japamala. Japa is a reliable and effective practice that aims to attain an aware and meditative state of mind. Precisely, this is one of the findings of the sessions that Kelli offers. Thus, the name JapaYoga was created.
For two decades, Kelli had been immersed in the corporate world, playing leadership roles in projects and people management. After years of witnessing peers and colleagues, including herself, compromising physical, mental and emotional health due to work pressure and demands, she strove to find alternatives to managing stress and leading a more balanced life.
Since 2012, Kelli has been studying yoga and practicing meditation. In 2016, she received the Kriya Yoga initiation from Self Realization Fellowship (SRF), becoming a Kriyaban and officializing a guru-disciple relationship with Paramahansa Yogananda.
Through this experience, she ended up discovering her true life purpose. In 2018, after moving to Canada and during her master's studies in Leadership, Kelli had a clear vision of her role as a leader. She decided to follow her heart by pursuing a professional career on the Yoga path.
Currently, Kelli offers in-person (Great Vancouver Area, BC) and online sessions for clients/students in Canada, U.S., Brazil, Australia, Portugal, Argentina. She also develops and teaches meditation & therapeutic yoga workshops. One of the hallmarks you can meet in her offerings is guidance to a contemplative enquiry into who you really are, to what you are capable of, and to an experience of self-awareness in all senses.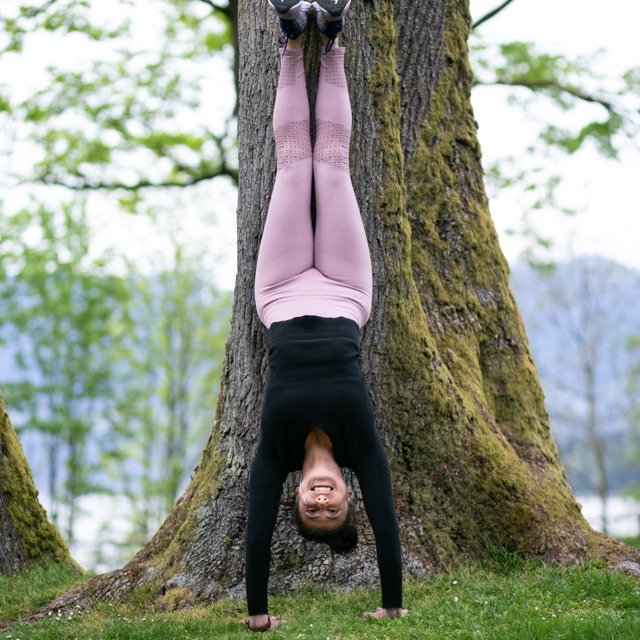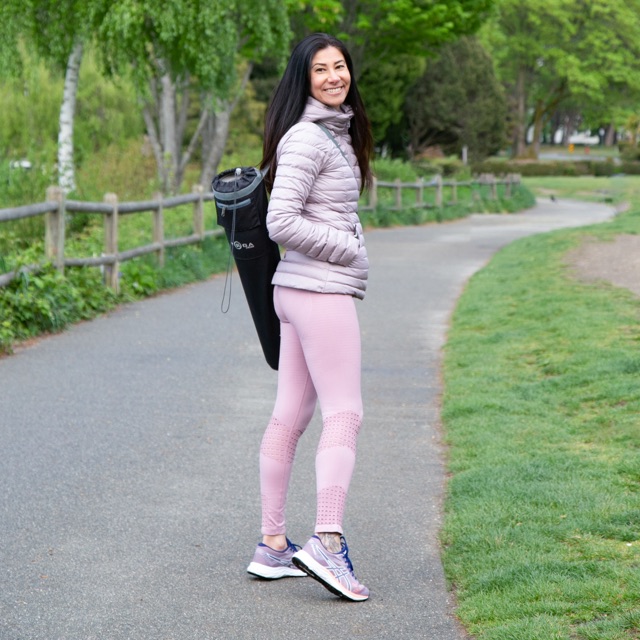 Yoga and Other Training
500-h Advanced Yoga Therapy - VSOHA Vancouver School of Healing Arts (Vancouver, CA - Feb 2023)
Shamanic Reiki Training (L3 Master)  - Souf of Yoga (California, USA - Feb 2023)
300-h Advanced Yoga Teacher Training (RYT-500) - VSOHA Vancouver School of Healing Arts (Vancouver, CA - May 2020)
300-h Foundations of Yoga Therapy - Certified Therapeutic Yoga Teacher - VSOHA Vancouver School of Healing Arts (Vancouver, CA - Jan 2020)
200-h YTT - Certified Yoga Teacher - Soul of Yoga (California, USA - Aug 2019)
First Aid + CPR–C/AED Red Cross Training (Vancouver, CA - Oct 2022)
Yoga & Holistic Specialties
Shamanic Reiki Healing Sessions
Yoga Therapy
Therapeutic & Trauma-Informed Approach
Hatha + Chair Yoga + Restorative + Yin + Nidra
Guided Meditation
1:1 Private & Personalized Sessions​
Experience
Yoga Therapy, Shamanic Reiki, Meditation - In-Person & Oline Private Sessions in Canada and Brazil (current)
Corporate Workshops Facilitator (YMCA, LivingWell, Innergy - 2020 - current)
Hatha Yoga - Public Classes at YMCA Robert Lee (Vancouver, CA - 2019 - 2022)
Meditation Program - developed for YMCA Robert Lee staff (2020)
​
Education Background
Master's degree in Adm. Science & Leadership - FDU Fairleigh Dickinson University (2018, Vancouver, CA)
Post Graduate Diploma in Marketing - FGV Fundação Getúlio Vargas (2003, Rio de Janeiro, BR)
​
What people are saying about JapaYoga Offerings
Doing Yoga Therapy with Kelli allowed me to reconnect with my body and a very deep and comfortable way. It's a new beginning that has positively affected my mental health and well-being. Kelli is a wonderful human being able to guide you through this journey with such kindness. I highly recommend doing yoga Therapy with Kelli to reconnect with your true self.

My experience was extremely important at this moment of my life! I suffered from panic attacks and after this practice I can control myself not to panic anymore! It was wonderful!!!

Kelli is very tuned and sensitive to the needs of the client and I could see significant improvement in my well being. I love the work that treats body and mind as a whole.

As a person that was already doing conventional therapy for over an year (with one of the main focus being immigration-related issues), yoga therapy was able to amplify therapeutic benefits by allowing me to gain the skills to understand and provide what my body and mind needs. I felt like my progress with conventional therapy was stagnated and yoga helped me realize that safety is the number one "problem" in my life. Through the yoga therapy sessions Kelli provided, I was able to establish safety as a key aspect of my continuous healing process, as well as learning healthy coping mechanisms (breathing exercises, affirmations, the science behind body & mid connection) to help me deal with this delicate and stressful situation that is immigration. That way, I'm able to regulate my body (and anxiety) while I tap into other triggers and traumas through conventional therapy, optimizing all aspects.

Kelli is a blessing! It's impossible not to get better after a session with Kelli. Breathing exercises and movements that move your body and rest your mind! I've been doing yoga with her for a while and I can't thank her enough for such a great change in my life. After a while, you see that she does not make only your day better, but your weeks and months! Your life improves incredibly!

Kelli is absolutely passionate about yoga as therapy. She's not just a traditional yoga teacher, she uses every yoga and meditation tool to deeply bring you back into your soul and mind, holistically. I've had wonderful experiences with Kelli's guidance that reflect positively into my daily routine and life. I definitely recommend it!

2020 was a challenge apart, and I don't know how I could get through without Kelli. She is a blessing in my life! I was struggling with my feelings, passing through a very difficult time with my family plus a risky pregnancy... all at once was like a bomb for me, but Kelli with all her knowledge and gift could guide me to find my way to get out of my crisis and not only that, to find my safe zone so I could always come back when a future difficulty shows up. This therapy mixed with yoga philosophy and exercises was the balance I needed to cure myself, to better understand people around me, to be grateful even when things go wrong, to love myself and be proud of how brave I am... even when I was in fear... during our process, I was able to live a true miracle! I have no doubt that if it wasn't for her teachings I could not have enriched my faith enough to be able to receive that bless. Thank you so much, Kelli ❤️🙏

"I have had the opportunity to take both private and group yoga and meditation classes with Kelli. I struggle with anxiety and being in the present moment; however, Kelli is always able to help me relax and tune out the stress and noise around me. After taking a class with Kelli I always leave feeling calmer, more at ease, and ready to handle whatever comes my way. From the moment you walk into one of Kelli's classes, you feel her warm and loving personality. She creates a safe, calm, and caring environment, and her passion for sharing her knowledge of yoga and meditation shines through in every class."

"I've been working with Kelli for some months so far. I was not sure what to expect when we began this incredible journey together. She told me she would give me tools to use on the process of self-healing, but it was so much more! I have discovered a new philosophy that opened my eyes and heart to see the world and myself in a different way. And yes, she gave me tools. Now, I can notice the triggers and properly choose how to respond instead of reacting to them. I know myself better, and I am learning that every experience is worthy. Now I know that I am safe, I am divine, and we all are experiencing a human journey. Thank you, Kelli."

"Kelli inspires me, motivates me, supports me, and helps keep me focused. She has shown me a new way to look at life; with more energy, strength and beauty to my body, mind and soul."

"Kelli's yoga class is one of the most powerful I have ever done. It is always difficult for me to completely embrace the class and keep my mind focused...but Kelli guides me with her energy, with so much nurturing and love that I literally can feel it. It enables me to connect with my inner self truly. It is magical; I don't feel time passing, and in the end, the reward to my mind and body is priceless. Thank you, Kelli, for letting me understand what Yoga can really do to my life! Namaste."

"Had a wonderful surprise with Hatha class today with teacher Kelli! Such a strong and energetic class. For the 1st time I've felt myself 100% connected. I also loved the Sanskrit terms that took it to another level. Keep coming for her classes"

I've been doing weekly sessions with Kelli for a few months. I must say that her work is incredible. Learning to apply the tools and philosophy of yoga in my life has been transformative. It helped me a lot during difficult times, and it also continues to help me daily. Now, I observe and understand events through a different, much richer perspective. I am extremely grateful for Kelli's work, and I highly recommend it to everyone looking for self-knowledge and personal development.

I started yoga therapy more than a month ago and am loving the results. I have been practicing yoga for over 10 years and at this point in my life that I am living postpartum, the psychological and physical results achieved with yoga have been fantastic. Thank you Kelli for your dedication to "reading me", understanding my needs and directing classes towards a more balanced life.

Kelli is the best yoga teacher ever! I have done Yoga in the past and nothing compares to Kelli's classes. The therapeutic yoga has drastically improved my mind, soul and body. Kelli is an exceptional person, very careful with every little detail. I would recommend her to everyone!!! I will always be grateful for having her in my life!

"I've had a beautiful experience the first time I tried Yoga Therapy with Kelli. She's very knowledgeable and she really takes time to look at everything properly and with care. Very effective practices and homework given. I feel nurtured every time we have worked together and have something new that I can add to my practice."

Kelli is a fantastic yoga instructor! She is so passionate and encouraging about her practice. Highly recommend!

Kelly is the best yoga instructor ever! I've never seen any other professional so passionate and caring as her. The sessions are great and meaningful, I've been doing it two times a week and I always feel better after practicing with her. Yoga with Kelly is the best exercise for the body and mind! I highly recommend it

I found myself not being able to fully experience the benefits of yoga from group classes (taken elsewhere) and thought that it would be beneficial to do some 1:1 classes - that was when I found Kelli! A few sessions in, I found myself learning to approach and accept life in a much healthier way. She has taught me so much about my body in ways that I would have never thought of. With my usual go-go-go mindset, my mind runs a million miles per hour and truthfully, I had doubts that I would be able to meditate. One day, she sat me down and said "I know we did not plan for it but today is the day Hilary, and it will be good" - oh boy was she kidding. I had the time of my life! Keep up the amazing work that you do Kelli!

Recommended by a friend, it came at the perfect time when I was looking for something to help myself refocus and find balance. After my first 6 sessions with Kelli, I am super pleased and will be continuing my practice with her. I have gained so much from Kelli's guided mediation, therapeutic yoga and the value of having that personal 1:1 has opened a whole new perspective on what it means to practice yoga.
Receive your FREE e-book
Mudras gift!
Sign up to receive our newsletter & yoga tips, and we'll send you our FREE e-book Mudras gift (What is Mudra?)